Aust Ch, Neut Ch Yland In The Mood (AI)
KAEDE gained her Aust Ch title at 15mths of age with BOB's, Multi Bitch CC's, Class In Group and In Show wins. She was a little slow
to get the hang of showing and honestly ..... she'd rather be home playing with her ball, teddy or bunny but she is a striking bitch in the ring.
2014 at the age of 8 she also gained her Neuter Ch title with multi In Group and In Show wins along the way!

Sadly on 21st November 2017 Kaede lost a 21 month battle with cancer - our girl is gone and our hearts are broken.
6th AUSTRALIAN NATIONAL WEIMARANER CHAMPIONSHIP SHOW
MAY 2017 - MELBOURNE
On 13th May 2017, Mrs Gerda Halff-Van Boven (Netherlands) graded Kaede EXCELLENT.
Competing in the Neuter Bitch class she was awarded 3rd place - all 8 present in the class were graded Excellent
and at 10 1/2 years of age Kaede was the oldest shown in the class.
Kaede is shown below at 10 1/2 years of age - 13th May 2017. Handled by Frank Mooney, photo by Ingrid Matschke Photography.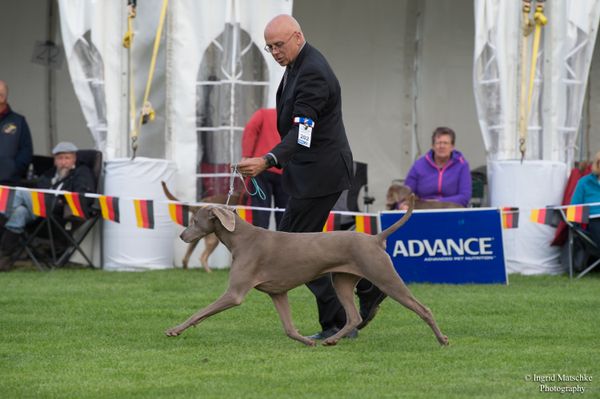 Kaede's first specialty show ....... 23rd Sept 2007.

Mrs Lois Richter of Waldwiese Kennels awards her Reserve Bitch CC (from 25 bitches present) and PUPPY IN SHOW.

"Another eye catching youngster. Very smooth, elegant girl with good length of neck flowing into some of the best shoulders I have seen today. Strong, well angulated hind and good length of back with strong top line. Overall a picture of quality, elegance and style......I loved her."
Lois Richter


Kaede is shown below at 3 1/2 years of age - April 2010.
Am Ch Nanis Baht A Pack A Trouble JH CD (USA)

Am Ch Valmars Xtra Copy (USA)

Am Ch Nanis Poison Ivy (USA)

Aust Ch Divani Enter Thstar

Am/Aust Ch Deerpaths Charlemagne

Am/Aust Grand Ch Colsidex Grauhund Just Jeans (Imp USA)

Am Ch Bremar Makers Mark (USA)

Am Ch Sagenhaft Colsidex Whiz Kid (USA)

Am Ch Nanis Baht A Pack A Trouble JH CD (USA)

Aust Ch Divani Enter Thstar

Aust Ch Bromhund Graphic Art